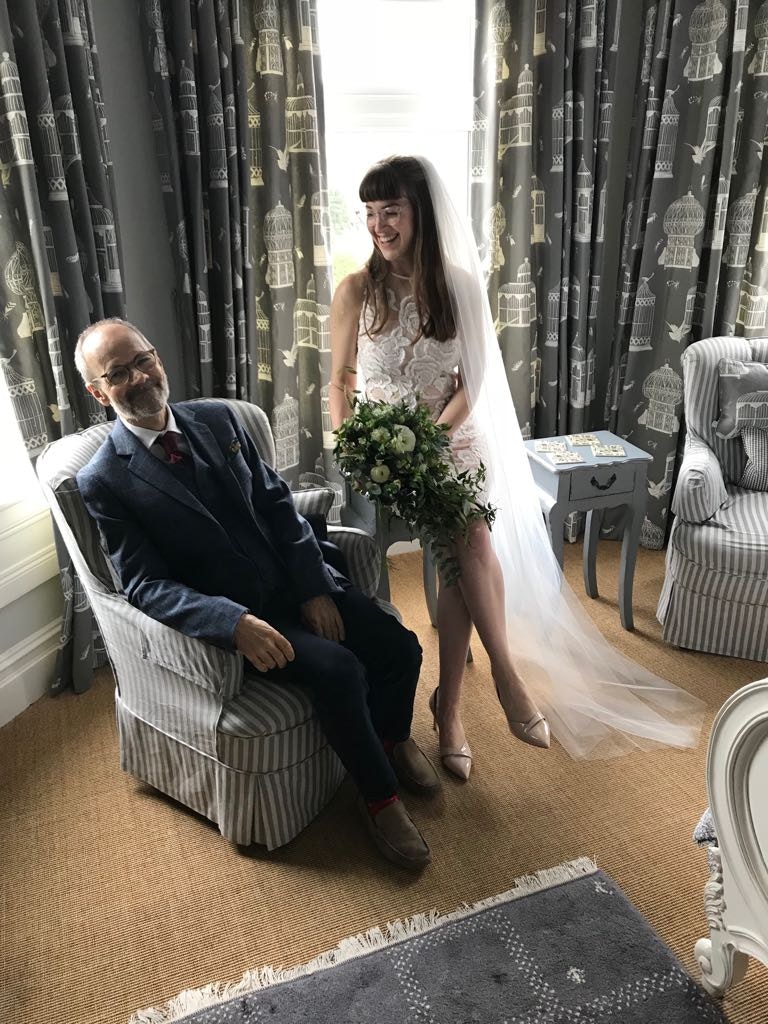 I am with Amanda, Eleanor and Maddy and we are having a celebratory dinner the evening before Eleanor's wedding. Ellie and Alex have brought their wedding day forward by a month, just in case. I pooh-pooh the necessity of doing this but, as it turns out, it is the right thing to do. We are excited and happy and having a lovely evening.

The next morning we are at the hotel just about to have breakfast. I suddenly feel very hot and sweaty. I don't know why, but it's not good. I go and lay down, very weak. I am very unwell. The girls call the registry office to see if the ceremony can be brought forward by an hour. I lay on the bed sweating while they anxiously bustle around getting ready, making calls, changing plans.
I manage to get into my suit and tie, and with lots of help I get into the cab. It's pouring with rain. We arrive at the Guildhall just as another wedding party comes out. Maddy and a man wearing a medal help me up the steps and into a wheelchair. We are shown into the ceremony room and Alex's family arrive.
Eleanor is waiting out in the lobby. This is the moment that I should be walking Eleanor up the aisle. I pull myself out of the wheelchair, and leaning heavily on Amanda, I go out to Eleanor. And I am so pleased to walk back into the room with Eleanor on my arm – she is holding me up.
We watch Eleanor and Alex get married. It's perfect. She looks so happy. I want to take lots of photos but I can't even think about it. Alex's Dad has a camera thrust into his hands, and he records the special moments for all of us, including the sick bag on the floor next to me. Ellie and Alex say their own vows for each other, and we are all moved to tears.
Instead of a Michelin-starred lunch, we decide to drive home. Amanda, Maddy and I have a grim four and half hour journey back. It's Friday and it's still pouring. I feel terrible, but so, so pleased to see Eleanor married to the lovely Alex.
Late that night, Eleanor and Alex decide drive back here too. Maddy's fab boyfriend Nick also comes over. The next day our brothers come over with their families, together with my Dad, and my good old friend Chris. I rest on the sofa while Amanda prepares copious amounts of food for everyone throughout the day and my Dad gets very drunk. I speak to people as they wander in to see me; there is lots of hand holding and many tears.
My liver is failing. This is the end game, and this will be my last post. Nobody can quite believe it, but I know I have days not weeks. I am very tired, and make an executive decision to eat as many sticky buns as I can! And bananas. And chocolate. My conscience is clear!
I am so fortunate to have this special time with our families and close friends to say goodbye. Tissues are issued. It's intense – no one wants to say the 'G' word.
I know now that I have done almost everything for the last time. I started this blog to document the personal side of my life, way before The Diagnosis. The tiredness is no longer creeping up but galloping up on me. But I feel calm.
I am grateful to have got this far. Amanda, Ellie and Maddy are with me. They are, and always will be, the greatest loves of my life.